The Volkswagen Transporter line is a line of vans produced by Volkswagen since the 1950s. Since then, the Volkswagen Transporter has undergone numerous transformations to improve appearance, engine capacity and the overall quality of the vehicles. The most current model of VW transporter is known as the VW Transporter T5. The VW Transporter T5 is now Volkswagen's most popular model due to the level of customization it can undergo, its quality manufacturing standards and the overall high quality and endurance level of the vehicle. The VW transporter t5 can be purchased in a range of different vehicles types, including mini buses and camper vans, and can also be customised with a wide range of accessories via official Volkswagen dealers and third party companies who will do VW camper conversions and additional accessory and feature installations.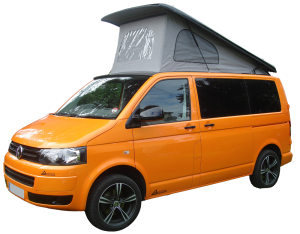 Because the VW Transporter T5 is such a popular and high quality model, many people looking to purchase a vehicle in the VW Transporter line are forgoing the older models for the newest model of VW transporter. However, potential consumers do not need to limit themselves to looking for new VW transporter T5 vans. Used VW transporter T5 vans can be found in numerous places across the country, including online marketplaces and online dealerships, all of which can offer a potential customer a great deal on a used VW transporter T5 van.
Used VS New
Should you buy a used VW transporter, or stick to brand new models? Some people swear by purchasing only new models straight from official dealers, while others prefer to purchase used vehicles in order to take advantage of great deals or even save money on possible customization and styling.
New vehicles are best for people who know they want accessories which are offered by an official Volkswagen dealer, or people who are concerned about the length of time they want to be using their VW transporter. New vehicles will almost certainly last longer than used VW transporters, even if the used vehicles may also last for quite ea while. Used vehicles are best for those looking for a specific model of VW transporter, especially older T5 models, or are hoping to save money by purchasing vans which have already been customized. Used VW transporters have often already had plenty of work done on them, so you may be saving a bundle by choosing to look for a used VW transporter instead. Used T5 models can be found on plenty of used car dealership lots, or online at sites like Vans and Trucks, where people can upload their used vehicles for sale. You can also find a large range of standard and customised VW T5 transporters for sale at S-Line in Minehead.
Choosing a vehicle from the VW Transporter T5 range
The VW transporter T5 is available in several basic variant styles. Each style can usually be customised to include other features and accessories, such as alloy wheels, removable seating, raised roofs and more. Most people classify the VW T5 range into two categories: delivery/cargo transportation and passenger/person transportation. The VW transporter vehicles in the cargo transportation category tend to feature more storage space, higher roofs and usually fewer windows. The passenger vehicles usually feature more windows, more seating, and easier access for passengers in and out of the van. Knowing about the different types of VW transporter T5 models will help you once you've decided to buy a VW transporter, used or new. The key to narrowing down which model of VW transporter you would like to purchase lies in examining what you are going to use the van for. Will you be delivering goods? Using it for a shuttle service business? Delivering flowers? Bulky items? The more you know about the ultimate intentions for the van, the better!
The following are the basic T5 models available, including a note about their ideal usage.
Transporter Panel Van: This is a simple delivery van with panel passenger doors. There are no passenger windows and no rear passenger seating. This model is ideal for transporting items which do not exceed typical van height, including luggage, flowers, small furniture and other cargo.
Transporter Highroof Panel van: This model is almost identical to the transporter panel van, except it features a higher raised roof. This model is ideal for transporting items which may exceed the typical van height, such as larger furniture and larger items.
Transporter Half-Panel Van: This is a simple delivery van that features two side windows and a row of removable seating. This model is ideal for someone who may need to transport passengers, such as additional crew members, along with their cargo during certain delivery errands.

Transporter Pick-Up Truck: This is a flatbed truck which is available in a single or double flatbed model. This truck is ideal for bulkier items which may require a flatbed to easily transport.
Transporter Double Cab Truck: This is a flatbed truck which has a double cab and two rows of passenger seating, for a total of six seats. This truck is ideal for bulkier items and people who may need to occasionally transport passengers, such as crew, along with their delivery items.
Transporter Chassis Cab: This model is a chassis truck which comes with a double cab and one or two rows of seats.

Transporter Sportsline Panel Van: The Sportsline model is a much sleeker, more stylish version of the traditional VW transporter panel van.
Transporter Kombi: This Kombi model (which is short for the German term meaning 'combination vehicle) is a combination of a cargo and passenger van. It features side windows, removable passenger seats, and can be purchased with the cargo-style raised roof. This model is also available in the Sportsline style. This model is ideal for those who may wish to transport passengers comfortably or cargo safely.
Transporter Shuttle: This is a shuttle van which has seating for up to eight adult passengers. This model is ideal for a typical shuttle service.
Transporter Caravelle: A large shuttle van model which has seating for up to nine adult passengers. This model is ideal for shuttle services which require extra seating.
Transporter Multi-Van: A top-of-the-line VW transporter which can contain up to seven passenger seats and is built for luxury accessories such as tables and refrigerators. This model is ideal for shuttle services or transporting services which emphasize quality over quantity of passengers.